2022 Business Person of the Year
Timothy F. Veith, EVP/Regional President, United Bank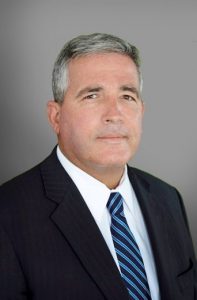 Tim Veith, a native and life-time resident of Montgomery County, Maryland, started his banking career 42 years ago and is currently the Regional President for United Bank for the East Region, which encompasses six Markets in DC, Maryland and Northern Virginia.  United Bank is the largest community bank headquartered in the Greater Washington, DC area with assets of over $29 billion. Tim's responsibilities include oversight of the commercial lending and retail activities amongst sixty branch locations, developing new business, underwriting, structuring, and closing of commercial loans as well as overseeing the maintenance and servicing of existing loan and depository portfolios. Additionally, Tim leads the Region through community involvement, new business development activities, and a strong market presence.
Tim served as EVP/Chief Lending Officer at Bank of Georgetown for eight years prior to its sale to United Bank in June 2016. Prior to joining Bank of Georgetown, Tim was Market President for BB&T (now Truist). This followed a twenty-year career at Equitable Bank, a publicly traded company based in Montgomery County, MD, where he served as President and CEO for the last ten years leading up to the sale of Equitable to BB&T in 2003. Tim oversaw Equitable Bank's initial public offering in 1993 and subsequent listing on the NASDAQ National Market Stock Exchange. His background in commercial lending, shareholder relations, business development and strategic planning enables him to be a strong and experienced leader.
Tim serves or has served on numerous boards and committee's including the Washington DC Economic Partnership, Washington Jesuit Academy Finance Committee, Maryland Bankers Association, Montgomery County Chamber of Commerce, Maryland Financial Bank, Wheaton-Kensington Rotary Club, as well as a number of other non-profit organizations in the DC area and is a proud member of the Knights of Columbus. Tim's educational background includes Gonzaga College High School, Washington, DC, University of Maryland, College Park, and The Graduate School of Banking, University of Texas, Austin, TX.
Tim and his wife Teresa live in Bethesda MD, and have four children, Tim, Jr. (Ashley), Jackie Shooshan (Kevin), Taryn, Eileen Leboff (Kevin) and ten grandchildren.
Past Business Person of the Year Award Winners
2021: Kevin Virostek
Ernst & Young
2020: Robert Easby-Smith
Chesapeake Restaurant Group
2019: Jim Boland
Boland Trane
2018: James V. Reyes
Reyes Holdings
2017: Geoff Gonella
Cornerstone Government Affairs, Inc.
2016: John Treseler
John C. Grimberg, Co.
2015: Jack Fitzgerald
Fitzgerald Auto Malls
2014: Donald J. Urgo, Sr.
Urgo Hotels & Resorts
2013: Craig A. Ruppert
Ruppert Landscape
2012: Kevin J. Sexton
Holy Cross Hospital
2011: Vincent C. Burke, III
United Bank
2010: Terrance Coakley
Coakley & Williams Construction, Inc.
2009: Louis T. Donatelli
Donatelli Development
2008: James A. Soltesz
Loiderman Soltesz Associates, Inc.
2007: Edward J. Quinn, Jr.
T.W. Perry
2006: G. Patrick Clancy
Chevy Chase Bank
2005: Charles J. Wolf, II
Payroll Network
2004: John Kane
Kane Companies
2003: Dottie Fitzgerald
Fitzgerald Auto Malls
2002: J. Paul McNamara
Potomac Capital Advisors
2001: Rory Coakley
Coakley Realty, Inc.
2000: Eileen Cahill
Holy Cross Hospital