Business Person of the Year
Kevin Virostek is the Greater Washington Managing Partner for Ernst & Young (EY).   In addition to client  serving responsibilities where he coordinates the full breath of services delivered to some of the largest global clients,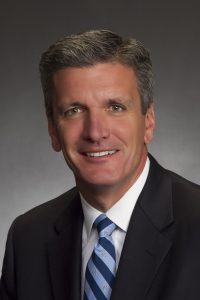 he is responsible for managing the Greater Washington office. EY's Greater Washington office consists of approximately 4,000 professionals in our Assurance, Tax, Consulting and Strategy & Transaction practices serving some of the largest and or fastest growing organizations in the DC region.
Kevin has held a number of leadership roles with EY over his 34 year career.  He also has been the Chief Financial Officer of a venture capital-backed technology company in the Washington, D.C. area, and a Director in the Business Development Department of The Nasdaq Stock Market
Kevin is a native Washingtonian and a product of our great Catholic schools.  He attended St Bartholomew's and then St. John's College High School.  He went on to graduate from The University of Notre Dame before he began his career in the auditing practice of Ernst & Young. He and his wife Mary Anne live in Bethesda, MD and have three adult children, Molly, Annie and Peter.
Kevin is active in the Greater Washington community currently serving as the Chair of the Board of Catholic Charities of Washington, and in leadership positions or on the Boards of the following organizations, The Economic Club of Washington, Goodwill of Greater Washington, United Way of the National Capital Area, HEROES. Inc., The Greater Washington Partnership, and Mater Dei School. Under Kevin's sponsorship EY has been a job sponsor for 10+ years at Don Bosco Cristo Rey and Kevin and his family are also sponsors at The Washington Jesuit Academy.
Past Business Person of the Year Award Winners
2020: Robert Easby-Smith
Chesapeake Restaurant Group
2019: Jim Boland
Boland Trane
2018: James V. Reyes
Reyes Holdings
2017: Geoff Gonella
Cornerstone Government Affairs, Inc.
2016: John Treseler
John C. Grimberg, Co.
2015: Jack Fitzgerald
Fitzgerald Auto Malls
2014: Donald J. Urgo, Sr.
Urgo Hotels & Resorts
2013: Craig A. Ruppert
Ruppert Landscape
2012: Kevin J. Sexton
Holy Cross Hospital
2011: Vincent C. Burke, III
United Bank
2010: Terrance Coakley
Coakley & Williams Construction, Inc.
2009: Louis T. Donatelli
Donatelli Development
2008: James A. Soltesz
Loiderman Soltesz Associates, Inc.
2007: Edward J. Quinn, Jr.
T.W. Perry
2006: G. Patrick Clancy
Chevy Chase Bank
2005: Charles J. Wolf, II
Payroll Network
2004: John Kane
Kane Companies
2003: Dottie Fitzgerald
Fitzgerald Auto Malls
2002: J. Paul McNamara
Potomac Capital Advisors
2001: Rory Coakley
Coakley Realty, Inc.
2000: Eileen Cahill
Holy Cross Hospital