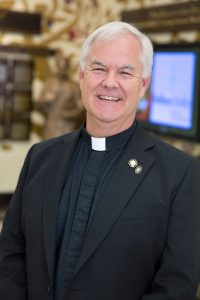 Rev. Michael Conway, SDB has been the President of Don Bosco Cristo Rey High School and Corporate Work Study Program, a college-preparatory school for low-income, diverse students from the Washington, DC area, since 2015. Through the Corporate Work Study Program, DBCR students earn a majority of their tuition cost by providing real services to over 100 local businesses while at the same time developing strong work study skills. Under Father Mike's leadership, the school has grown to full capacity and continues the legacy of 100% college acceptance for all graduates. 
A long-time Catholic educator, Father Mike has more than 30 years of experience at Salesian schools around the country, most recently serving as President of St. Petersburg Catholic High School in St. Petersburg, Florida from 2008 - 2015. His commitment to faith-based education includes service on the boards of many Salesian schools. 
Father Mike was professed a Salesian in 1983 and ordained a Catholic Priest in 1992. He received his BA in Philosophy from Don Bosco College, his Masters in Divinity from the Pontifical College Josephinum and attended the University of San Francisco ICEL Program for Catholic School Administration. He resides in College Park, Maryland, ministers at Don Bosco Cristo Rey, serves as the Director of the Salesian Community in College Park. and assists at various local parishes and other archdiocesan entities.