Community Leader of the Year:      Courtney Clark Pastrick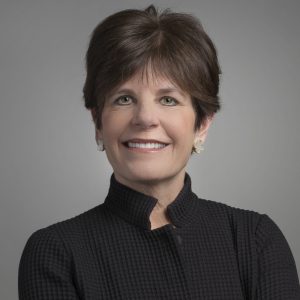 For almost 30 years, Courtney led her family's philanthropic giving as President of the A. James & Alice B. Clark Foundation. The Clark Foundation's focus is on educating engineers, improving the lives of veterans and their families, and providing members of the DC community the best opportunity to thrive.
Today, as Board Chair, she continues to honor her father's legacy and is active in the Washington, DC-area community. She has served in leadership roles with several local non-profit organizations, including as former Chair of the Board of Trustees for the Washington Jesuit Academy, and as a trustee for Collegiate Directions, Inc.
Under Courtney's leadership, the Clark Foundation has supported faith-based education with investments in Washington Jesuit Academy, the Consortium of Catholic Academies, and Don Bosco Cristo Rey High School, among others. In addition, the Foundation recently made a significant investment to help launch Catholic Charities DC's Newcomer Network, which supports the region's growing immigrant population, with a particular focus on Montgomery and Prince George's Counties.
In 2006, Courtney and her husband R. Scott Pastrick were awarded the Caritas Award by Catholic Charities DC for their commitment to Catholic Charities' mission of giving help that empowers and hope that lasts.
She has also served on the Board of Trustees for Vanderbilt University and DC-CAP, a college access program for public and charter school students in DC. Courtney also serves as the Board Chair of Clark Enterprises, the private investment firm founded in 1972 by her father.
Courtney resides in Chevy Chase, Maryland with her husband, R. Scott Pastrick, President and CEO of Prime Policy Group. They have three children and four grandchildren. Courtney holds a JD from the Catholic University of America and a bachelor's degree from Duke University.
Past Community Leader of the Year Awardees
2020: Rev. Michael Conway, SDB
Don Bosco Cristo Rey
2019: Msgr. John Enzler
Catholic Charities
2018: Kathleen Weber
Sister of the Holy Cross
2017: Sandra Andreas McMurtie
2016: Michael C. Ridgway
The Shepherd Foundation
2015: Bill Whitaker
Washington Jesuit Academy