2022 Community Leader of the Year:     Kathleen Curtin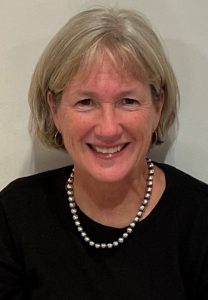 For nearly 18 years, Kathleen Curtin has served as the Executive Director of the Christ Child Society of Washington.  The Society is the oldest women-run nonprofit in D.C. and meets the material, educational, and emotional needs of children and families of the Greater Washington area. Currently, it provides services through three main programs: welcome kits and material assistance to low income families through the Layette Program, school-based academic and early literacy support through Student Success, and multifaceted after-school, summer camp and family support programs to young women and their families in Ward 8 through the Girls on the Rise.
Kathleen leads the Christ Child Society as it lives out the legacy of its founder, Mary Virginia Merrick, a resident of Montgomery County, who founded the Society in 1887 and is currently a candidate for canonization.  It is her vision that "nothing is ever too much to do for a child" that serves as an inspiration to Kathleen, the CCS board, volunteers, members, and staff who, together, forward this important mission.  Kathleen has built on its long rich history serving children to develop today's Christ Child Society that meets the contemporary needs of thousands of children and families each year. Kathleen is most proud of the work of her organization on behalf of children and families, maintaining its signature initiatives in addition to its "newest programs," such as tutoring in local Catholic Schools, early literacy programs, and the Girls on the Rise Empowerment Program -that embodies the legacy of Mary Merrick who believed that "personal contact with the poor is the element of true charity." Kathleen fully appreciates that the most high-impact aspect of CCS is its combination of volunteer and professional services; the bringing together of these two valuable resources is what makes the Society so special and effective. Working with amazing members and volunteers – of all ages- to provide assistance and services to such deserving children and families is what inspires Kathleen to continue this work.
Kathleen has had a long career in educational and non-profit leadership.  Before the Christ Child Society, she was the principal of an alternative high school in Northeast, Washington for 13 years. She also served as the Education Specialist at Oak Hill Youth Center, DC's maximum security juvenile detention center in Maryland, and a lead teacher in a special needs school for emotionally disturbed youth.
Kathleen has served on the board of Georgetown Visitation Preparatory School, chairing its Diversity and Inclusion Committee, and has volunteered as a tutor, counselor, life skills instructor, and educational task force member.
Kathleen, a Bethesda native, attended Our Lady of Lourdes and Georgetown Visitation.  She holds a master's degree in Counseling from Harvard University, a master's degree in Correctional Special Education from George Washington University as well as a bachelor's degree from Georgetown University. Kathleen resides in Chevy Chase, DC with her husband, Mark Miskovsky.  They have two children, Patrick (Gonzaga 2015 and Boston College 2019) and Eleanor (Visitation 2019 and Georgetown University 2023).
Past Community Leader of the Year Awardees
2021: Courtney Clark Pastrick
A. James and Alice B. Clark Foundation
2020: Rev. Michael Conway, SDB
Don Bosco Cristo Rey
2019: Msgr. John Enzler
Catholic Charities
2018: Kathleen Weber
Sister of the Holy Cross
2017: Sandra Andreas McMurtie
2016: Michael C. Ridgway
The Shepherd Foundation
2015: Bill Whitaker
Washington Jesuit Academy