The Paul G. Zurkowski Founder's Award
Peter Hodgson is a Partner with CohnReznick, the eleventh largest public accounting firm in the United States.  He has more than 30 years' experience in public accounting providing audit, tax and management advisory services to clients in various industries including real estate, not-for-profits/education, and employee benefit plans.  Pete's passion for Catholic Education and assisting Catholic schools has carried over to his professional career as some of his clients include Washington Jesuit Academy, Don Bosco Cristo Rey High School, The Woods Academy, Mater Dei School, The Heights, Connelly School of the Holy Child and Our Lady of Good Counsel High School, among other independent schools.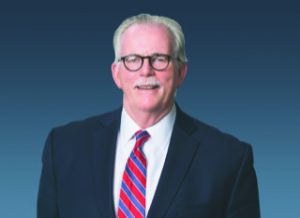 A native Washingtonian, Pete attended Blessed Sacrament School, St. John's College High School and Mount Saint Mary's University, where he earned an undergraduate degree in Accounting.  He is a Certified Public Accountant and a member of the American Institute of Public Accountants (AICPA) and the Maryland Association of Certified Public Accountants.
In addition to his professional career, Pete has been an active member in several organizations in the community.  He served on Holy Redeemer Parish Finance Council, coached CYO basketball and Holy Redeemer flag football for more than 10 years, and was the Treasurer of the Holy Redeemer Golf Committee.  He also coached JV basketball at Georgetown Preparatory School.  Pete served as a member of the Finance Advisory Committee for SOME (So Others Might Eat), and for the past several years has served as a member of the Audit Committee of the American Academy of Physician Assistants, Inc.  He also served on the Board of the Greater Bethesda Chamber of Commerce and was on the Board of the Bethesda Urban Partnership where he served as Treasurer.  Pete is a Past President of the Catholic Business Network – Montgomery County and currently serves as the Treasurer of the Board.
Pete and his wife Patty live in Kensington, and their three children, Chris, Carolyn and Tyler live in the Washington Metropolitan area.
Past Paul G. Zurkowski Founder's Award Winners
2020: Mark Johannessen             2014: Sue Palka                     2008: Eileen Vaughan
2019: Gerard McLoughlin            2013: Michael Murray            2007: Rob Smith
2018: Rob Scanlon                        2012: William Gessner          2006: John Matteo
2017: Barbara Murphy Kromer    2011: Matthew Carroccio     2005: Gloria Freihage
2016: Msgr. John MacFarlane      2010: John Treseler              2004: Kathleen Bovello
2015: Mark Gregory                      2009: Anita Segreti                2003: Nancy Bullough